This project involves 50+ experts from Europe and North America working together to develop a new Transatlantic Environment Forum (TEF). Their belief is that through new ways of learning from each other, of pooling our knowledge and creating new innovative dialogues between environmental experts and policy makers we can increase the effectiveness of our separate - and also common - efforts.
The group met in Brussels on 22 March 2019 and in Washington, D.C. on 1 April where each meeting was opened by Ernst Stetter, Secretary General, Foundation for European Progressive Studies (FEPS) and Ronald A. Kingham, Executive Director, Environment & Development Resource Centre (EDRC) / Co-Coordinator, Brussels Dialogue on Climate Diplomacy (BDCD) with presentations on Key Issues in Transatlantic Environment Relations by:
Luc Bas (Belgium), European Regional Director, IUCN European Regional Office, IUCN, International Union for Conservation of Nature
Alvaro Cedeno Molinari (Costa Rica), Executive in Residence, Global Fellowship Initiative, Geneva Center for Security Policy / Former Ambassador, Permanent Mission of Costa Rica to the WTO
Céline Charveriat (France), Executive Director, Institute for European Environmental Policy
Felix Dodds (UK), Adjunct Professor, Water institute, University of North Carolina / Former Executive Director, Stakeholder Forum for a Sustainable Future / Author, Stakeholder Democracy: Represented Democracy in A Time of Fear (Routledge/ Earthscan, July 2019) / Co-author, Negotiating the Sustainable Development Goals (Routledge/ Earthscan 2017) / Co-author, The Water, Food, Energy and Climate Nexus: Challenges and an Agenda for Action (Routledge/ Earthscan 2016 )
Harris Gleckman (US), Senior Fellow, Center on Governance and Sustainability, University of Massachusetts, Boston / Director, Benchmark Environmental Consulting / Former Chief of the Environmental Unit, UN Centre on Transnational Corporations / Former Chief, NY office, United Nations Conference on Trade and Development / Project Planning Officer, UN Financing for Development Conference / Author, Multistakeholder Governance and Democracy: A Global Challenge (2018)
Alice Hill (US), Research Fellow, Hoover Institution, Stanford University / Former Special Assistant to the President and Senior Director for Resilience Policy, National Security Council, White House
Sophie Jouineau (FR), International Relations Consultant, ITG / Former Head of the Latin American Bureau at the French Ministry of Defense / Former Political Affairs Officer, UN Mission for the Stabilisation of Haiti
Marcus King (US), John O. Rankin Associate Professor of International Affairs and Director of the M.A. Program in International Affairs at George Washington University
R. Andreas Kraemer (Germany), Chairman, Ecologic Institute US / Founder, Ecologic Institute / Senior Fellow, Center for International Governance Innovation (CIGI) / Adjunct Professor, Duke University
Martin Nesbit (UK), Senior Fellow and Head of Climate and Environmental Governance Programme, Institute for European Environmental Policy / Former, Director for EU and International Affairs, UK Department for Environment, Food and Rural Affairs
Mark Ritchie (US), President, Global Minnesota / Former Minnesota Secretary of State / Former President, Institute for Agriculture and Trade Policy
Alexander Verbeek, Policy Director, Environment & Development Resource Centre (EDRC) / Founder, Institute for Planetary Security
Jeremy Wates (Ireland), Secretary General, European Environment Bureau / Former Secretary to the Aarhus Convention / Former Campaign Leader, European ECO Forum / Founder and Former Director, Earth Watch (Friends of the Earth-Ireland)
Both meetings also involved working groups on:
Participation & Organisation
Information & Research
External Relations & Communications
Education & Training
Programme & Resources
The workshops were co-organised with the Foundation for European Progressive Studies with the support of the European Parliament.
For more information see TREC Workshop 1 and TREC Workshop-II.
---
Related activities:
EDRC joins UNited for Climate Justice Initiative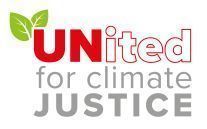 Ahead of the UN Climate Action Summit in New York on 23 September 2019, EDRC worked with the Foundation for European Progressive Studies (FEPS) and other partners in a project to analyse the relationship between climate change and inequality and put forward recommendations for increased coordinated action by a diverse range of international, regional, national and local organisations.
The project developed by a steering committee and chaired by Teresa Ribera, Minister for the Ecological Transition in Spain included expert policy advisers, political representatives, civil society activists, academics and other key stakeholders in the climate justice debate. Activities included: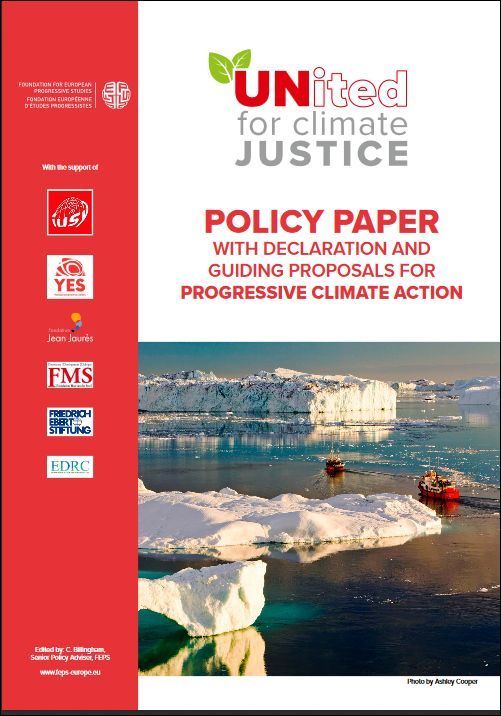 On 2 August, FEPS released the UNited for Climate Justice policy paper including the Declaration and Guiding Proposals for Progressive Climate Action which was presented at a high-level event in New York on 20 September.
---
EDRC represented at 71st Conference on World Affairs, Boulder, Colorado, 13 Apr 2019
For the second year in a row, EDRC's Policy Director, Alexander Verbeek was a speaker at the 71st Conference on World Affairs held in Boulder, Colorado from 6 to 13 April 2019. The Conference on World Affairs is an annual event that brings together thought leaders from across the globe to diversify the student experience and share with the community a range of perspectives on the pressing issues of the day. Alexander was a speaker in 8 panels during the week including the session on "Saving the Planet: All Countries on Deck" where in his closing remarks he appealed to Americans students to get involved in climate action. Read More.
---
Working towards a new