Madrid, 11 December 2019
As secretariat for the Global Military Advisory Council on Climate Change (GMACCC), EDRC assisted with the organisation of a session on "Climate and Security- emerging trends and adaptive strategies" to explore current challenges and opportunities to address the climate-security nexus in LDCs, SIDS and associated territories. In addition, the event highlighted local and regional approaches to tackle climate-security issues and analyse how various climate conflict resolution approaches could be integrated into current and future climate programs.
The event at the EU pavilion was held on 11 December and co-organised with the Global Climate Change Alliance Plus (GCCA+), the European External Action Service (EEAS), the Global Military Advisory Council on Climate Change (GMACCC) and the Institute for Environmental Security (IES).
Speakers included Mr. Stefano Signore, Head of Unit, Sustainable Energy and Climate Change, DEVCO; Ms. Signe Vikaer Leth Olsen, Policy Officer, EU Climate Diplomacy; Dr. Florian Krampe, Senior Researcher, Stockholm International Peace Research Institute; Lieutenant General Tariq Waseem Ghazi, Former Defence Secretary, Government of Pakistan / Member, Global Military Advisory Council on Climate Change and Lieutenant Commander Olivier-Leighton Barret, U.S. Navy (Ret) / Senior Research Fellow, Center for Climate and Security.
In his presentation, Lieutenant General Ghazi said that "It is important to remind ourselves constantly of "The Climate-Security Instability Cycle": climate impacts environment, environment impacts land, land impacts people, people impact threat, threat impacts security. Climate and Security are intimately linked".
In a video interview for the Ecologist Lieutenant General Ghazi highlighted the role of military forces, how that role could evolve positively and how climate change can also lead to conflict if resource scarcity if not managed properly.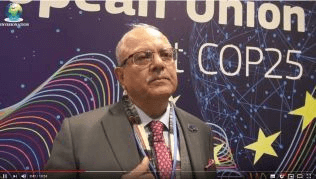 Ghazi is quoted as seeing the growing constraints of a resource-strapped region where cross-border disputes move from the ideological to the climatically tangible, with the potential to escalate rapidly into something far more serious.
When asked what concerned him most about the future he replied: "I think my biggest concern, especially in the area in which I live, is water". "It is the reduction in the flows of the river Indus, on which the people in my country depend.", he said.